English version: WP Cerber Security 8.5.8

De minimaal ondersteunde PHP-versie is nu 5,5. Later dit jaar wordt het ingesteld op 5.6. Als u nog steeds 5.x-versies van PHP gebruikt, raden we u ten zeerste aan PHP bij te werken naar ten minste PHP 7.2. Waarom moet je dat doen? Webservers met oudere PHP-versies kunnen worden blootgesteld aan niet-gepaarde beveiligingslekken in de PHP-kern of geïnstalleerde PHP-modules. We raden aan om hier PHP te gebruiken die is gemarkeerd met groen: https://www.php.net/supported-versions.php
Wat is er nieuw
Een functie voor het exporteren en wissen van persoonlijke gegevens die kan worden gebruikt via de tool WordPress persoonlijke gegevens exporteren en wissen. Deze functie geeft u volledige controle over persoonlijke gegevens vastgelegd door WP Cerber en helpt uw organisatie om te voldoen aan de wetgeving inzake gegevensprivacy zoals GDPR in Europa of CCPA in Californië. Persoonlijke gegevens verzameld in WP Cerber-logs kunnen worden geëxporteerd of gewist door een gebruikersverzoek vanuit het WordPress-dashboard met eenvoudig, er zijn geen database-tools nodig. Meer weten van deze artikelen: Persoonlijke gegevens exporteren uit logboeken en Persoonlijke gegevens verwijderen .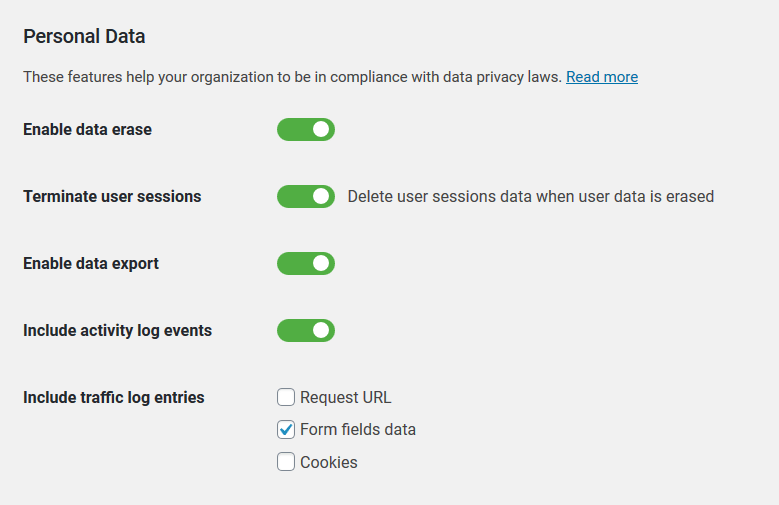 verbeteringen
De prestaties van het algoritme dat rijen exporteert vanuit het activiteitenlogboek en het live verkeerslogboek naar een CSV-bestand is verbeterd waardoor grotere datasets kunnen worden geëxporteerd. We verwachten dat het soepeler zal werken op de meeste serverconfiguraties. Je kunt het ook fijnafstemmen met de constante CERBER_EXPORT_CHUNK .
Wanneer u een gebruiker blokkeert, kunt u nu een optionele beheerdersnotitie toevoegen. U kunt bijvoorbeeld een reden voor het blok opgeven. Het wordt nergens getoond, alleen websitebeheerders kunnen het zien op de gebruikersbewerkingspagina.
Fout is opgelost
Als een gebruiker wordt geblokkeerd, is het niet mogelijk om het gebruikersbericht bij te werken.
Afhankelijk van de logboekinstellingen worden de koppelingen "Details" in het Live Traffic-logboek niet in sommige rijen weergegeven.
Last posts from WordPress security blog